MMI Expatriate Alumni Network
[ Home ] [ Universities ]
Network Acts Alphabetical List Network News List by Year
MMI History Russian Expatriate communities
Alexander Orlov spent his last year of studies at MMI (1980-1981) doing practical training in Ethiopia. He served with an army unit in the Soviet Far East (Township of Sergeevka aka Township Svetlyi, Khabarovsk Region) in 1981-1986. He then served as instructor with an army unit in Moscow, Russia (1986-1990). Retired as captain in 1990.
From the mid-eighties he was increasingly devoting himself to painting. This occupation became his primary one by the time of his retirement from military service.
In 1991 he came to California and settled down in Los Angeles.
After joining California Art Club, which was founded by the California leading traditional artists in 1909, Alexander received The Best of Show Award from the 85th Annual California Art Club Gold Medal Exhibition.
Among his collectors are Arnold Schwarzenegger and Maria Shriver, John Davis, Don Ohlmeyer.
This site will soon host samples of Alexander Orlov's work (tentatively in November of 2000).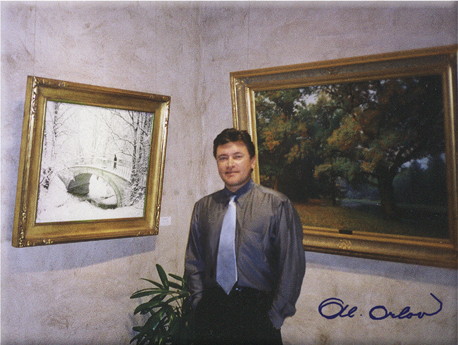 Alexander Orlov backgrounded by two of his works during the Russian Culture Heritage Festival.
San Juan Capistrano, CA, Fall of 1999

© Art Shvetsov 2000-2003